In 2010, we awarded two scholarships, a $700 scholarship to Daniel Harnish and a $300 scholarship to Kayley Marshall. Daniel also received a $1000 scholarship from the TCI Foundation fund. Congratulations to both of these amazing and tall young scholars!
About Daniel Harnish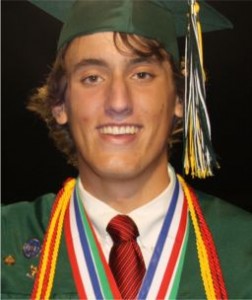 Daniel is from El Camino Fundamental High School. He is 6′ 5″ and will be attending Dartmouth University majoring in Engineering/Biology. He is an AP Scholar with Distinction and has a 4.6 GPA. In addition to his many academic and sports honors, Daniel has volunteered hundreds of hours volunteering for Native American Reservations in the Western United States and "single handedly formed a non-profit organization called Baseball for All." This organization provides the resources to those less fortunate so that they too may enjoy one of Daniel's favorite sports.
Other awards Dan received:
W.T. Mooney Award-Given to one boy and one girl from each graduating class, 4.0 GPA (unweighted) and participation in at least 2 varsity sports. Names are carved on a permanent trophy at the school.
Presidential Award for Academic Excellence-At least a 3.5 GPA and at least a certain score on either the SAT or the ACT
Academic Top 10
Department Awards (3): English, Math, Science-Each of the eight educational departments at El Camino give out two awards to students who excel in those specific areas. I was given just under a quarter of all these awards given.
California Scholarship Federation Life Member-Three points are given per "A" received and one point per "B" received per semester. A minimum of ten points must be achieved in at least 4 or 5 (can't remember which) semesters throughout high school.
High Honors-GPA>4.0; taken 10+ honors/AP courses with a minimum grade of B-; 6+ semesters of a team, club, or academic competition; officer of active club for 2 semesters/captain of sports team for 2 semesters/editor-in-chief/etc.; 100+ hours of community service.
Boosters scholarship
PTSA scholarship
Class Valedictorian
About Kayley Marshall
Kayley is 5'11" and graduated from Whitney High School in May. She has a 4.05 GPA and plans to attend either Harvard or UCLA to major in International Relations. Kayley is an AP Scholar with Honor and has participated in a variety of sports including water polo, swimming, basketball, and softball. Additionally, she was crowned Miss Teen Queen and Miss Junior Teen Queen for Placer County Scholarship Pageant and a finalist for California Junior Miss. Kayley is active in promoting the Placer County Fair and the All American Speedway.